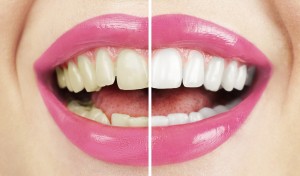 We call them pearly whites. The more brilliant your teeth, the better your smile looks. The problem with white teeth really lies in the degree you take your oral hygiene. You can brush & floss every day, but your teeth may not keep its natural sheen. You can make appointments with your dental professional to have teeth whitening sessions, but that can get pricey. There's always over-the-counter versions you can buy to do it at home, but what if there was a way to do it without going the chemical route? Here are six easy ways to DIY your smile back to the pearly white scene you're used to:
The version most people are used to hearing about is a hydrogen peroxide and baking soda paste, or "old reliable". You can find a lot of toothpastes with these ingredients, but if you want to do it DIY style, just drop a few drops of hydrogen peroxide into a little bit of baking soda makes a paste. Apply it as you would regular toothpaste.
These next couple are sure to throw you off, but they take natural to a whole new level. Strawberries and banana peels. Yes, having these fruits handy will help brighten your smile in the most delicious way possible. Strawberries contain malic acid, and malic acid is fantastic at breaking down stains you would get from drinks like wine or coffee. So grab a couple, add about a teaspoon of baking soda & rub the paste on your teeth for 5-7 minutes. When it comes to the banana, it's the peel that will shine up that smile. After you brush your teeth, peel a ripe banana and rub a piece along the inside of your teeth for two minutes. Minerals like potassium, magnesium, etc. will absorb into the enamel on your teeth, brightening it in a very nutritious way.
If you have some apple cider vinegar in your pantry. By diluting it with some water (3 parts water, 1 part vinegar) and mixing it with an all-natural toothpaste, you've made yourself a pretty efficient tooth whitening solution. If you are one that has discovered the many uses for coconut oil, you may also know that swishing it around in your mouth for 20 minutes also helps dingy teeth. But did you also know that you can turn it into a paste, just like apple cider vinegar? Heat a cup of coconut oil, add two teaspoons of baking soda & five to ten drops of natural spearmint essential oil. Not only does the coconut oil turn into a teeth whitening enzyme when mixed with saliva, but the spearmint adds antimicrobial benefits for your gums. It's a one two punch of smile brightening goodness!
One of the latest detoxifying trends is to use activated charcoal. The porous nature of the charcoal turns out that it can also be fantastic at binding to bacteria before it can leave stains on teeth. The recipe is just as simple as all of these others: mix with a little bit of water, gently apply it to your teeth, leave to set in your mouth for two minutes, then rinse.
As you can see, it is possible to keep your smile the brightest it can be without busting your budget or using harsh chemicals. None of these DIY ideas should completely replace your oral practices in any way. In fact, no whitening solution can replace your daily brushing and flossing regime. These teeth whitening recipes are intended to be used every couple months when you want your smile the best it can naturally be.
For more information on teeth whitening sessions and to make an appointment call, Dr. Kirtley at 317-841-1111 or visit his website dentalimplantsinindianapolis.com.
Dr. Kirtley gladly welcomes patients from Indianapolis, Spring Hill, Beech Grove, Wynndale, Speedway, Rocky Ripple, Warren Park and all surrounding areas.