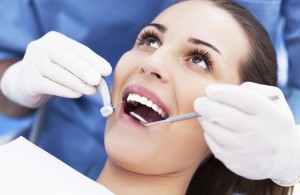 Tooth decay is likely to occur when food particles sit in the depressions, nooks, and crannies in and between teeth, allowing bacterial colonies to form, creating acid that eats holes into teeth. While brushing and flossing will do a reasonably good job of removing food particles from the depressions in teeth, dental sealants are a procedure used by dentists to help prevent accumulation of food in the depressions of teeth in the first place.
Dental sealants are a thin plastic coating painted onto the chewing surfaces of teeth – typically molars or premolars – to help keep food from settling within the bite surface. Dental sealants bond to the bite surface, providing a protective surface between the tooth and the food, so that patients are even less likely to experience tooth decay. Because sealants can not only keep food out, but also prevent treatment of existing decay, dental sealant is typically a procedure applied to young patients – often children and teenagers in their most cavity prone years (6-14).
The process for applying sealants is fairly straightforward. First, teeth are thoroughly cleaned and dried. An acidic solution is used to roughen the surface of the enamel to allow the sealant to properly bond, and then teeth are rinsed and dried again. Finally, the sealant is painted on in a thin layer, and hardened with a special light used to cure the plastic. Properly applied, a dental sealant can protect the bite surface of teeth for up to 10 years.
If you have children in the cavity prone age ranges, or if you're concerned about tooth decay on rear teeth that are difficult to brush, ask your dentist about dental sealants. They may not be an option for every patient, but your dentist will be able to advise you about whether or not you or your children are good candidates, as well as informing you of the cost and time frame of the procedure.
For more information on dental sealants and to make an appointment call, Dr. Kirtley at 317-841-1111 or visit his website dentalimplantsinindianapolis.com 
Dr. Kirtley gladly welcomes patients from Spring Hill, Beech Grove and Warren Park.