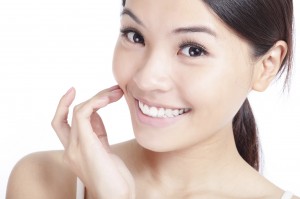 Receiving a dental implant(s) treatments isn't the easiest procedure. There are many steps, visits and waiting time to go through the entire process correctly. You've put in a lot of time and money in to your new restorative, now how can you ensure they last a lifetime? Once you have your dental implants in place, you want to make sure they are taken care of properly.
Dr. Kirtley also wants to make sure your dental implant(s) are cared for properly as well! We've compiled a short list of easy steps to properly care for your new implant(s).
Proper care for your new implant(s):
-Brush and Floss twice a day – just like your regular teeth, implants need to be cleaned and flossed to prevent food particles from invading your gums and implant structure.
-Say no to Staining – dental implants can stain the same as normal teeth. Steer clear of smoking, coffee, tea, sodas and wine. Moderation is key.
-Mouthwash – special germicidal mouthwash is often prescribed by dentists for patients with dental implants. It helps reduce the risk of infection.
-Dental visits twice a year – regular dental visits are a part of normal dental hygiene; however this is especially true for people with dental implants. Your dental implants will need a thorough cleaning and plaque removal. Along with the cleaning, the condition of your gums, jaw and anchors will be checked.
Caring for restorations is just like caring for your natural teeth: brush, floss and maintain regular dental cleanings and check-ups, as scheduled. Easy, right? With proper care, your dental implants can last you a lifetime.
Contact Dr. George Kirtley for an appointment today for more information on implants at 317-841-1111 or generaldentistryindianapolis.com.
Dr. George Kirtley welcomes patients from Spring Hill, Beech Grove and Warren Park