Click here to visit our photo gallery.

Smiles By George for cosmetic, restorative and family dentistry in Indianaplis Indiana
At our office we provide world class cosmetic and family/ general dental care.
Dr. Kirtley is presently the only one of three dentists worldwide who has been Accredited by both the American Academy of Cosmetic Dentistry and the British Academy of Cosmetic Dentistry. He lectures internationally on Smile Design and teaches dentists how to perfect their skills in cosmetic restorative dentistry. Dr Kirtley's smile creations have graced the covers of magazines locally and abroad. He has treated patients from all over the United States and Europe. Consultations may be scheduled with Dr. Kirtley at his office in Indianapolis, Indiana where you can see the possibilities of what a new smile will bring through the use of Envision A Smile Imaging Software...A way to preview what your smile could look like!

Dr George Kirtley is the cosmetic and restorative dentist behind 100s of beautiful smiles with the skills to craft your smile just the way you want. View our smile gallery to evaluate some of the smile make-overs Dr. Kirtley has created through the techniques of Porcelain Laminate Veneers, dental implants and cosmetic dentures. If you are seeking a cosmetic or restorative family care dentist in Indiana to give you or your family the healthy smile you deserve contact us for an appointment.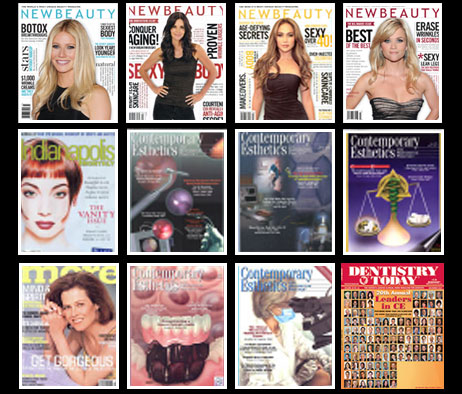 Micki Stirsman has been a pleasure to work with over the years.
Click here to watch Micki's story along with other happy patients of Dr. Kirtley's office.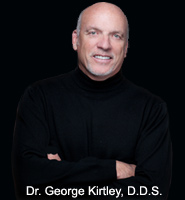 Dr. George E. Kirtley is presently the only dentist in the State of Indiana to be Accredited by the American Academy of Cosmetic Dentistry. Dr Kirtley is also Accredited by the British Academy of Cosmetic Dentistry and at the time of writing is one  only 3 dentists  in the world to be an Accredited Member of both the British and American Academy of Cosmetic Dentistry. He is a member of the American Dental Association, the American Society of Dental Aesthetics and European Society of Cosmetic Dentistry. Dr. Kirtley has the distinct honor of being a March 1999 inductee into the GenR8Next Dental Hall of Fame for his work in smile dentistry. In 2001 he was recognized by nationally syndicated More Magazine as one of America's top ten cosmetic dentists and in 2012 was selected by Consumers Research Council of America as one of Americas Top Dentists and listed on Angie's List with an "A" rating.
Dr. Kirtley is a product research consultant for Dental Product companies and a teacher and instructor for the Aesthetic Advantage Programs at New York University, NYC; West Palm Beach Atlantic Coast Research Center, West Palm Beach, Florida.  As part of his professional instruction, he is also a national lecturer and author of Cosmetic Dentistry articles published in the leading Dental Journals in the United States: Dentistry Today and Contemporary Esthetics,  Inside Dentistry, Compendium and in Europe:  Dental Implant and Esthetics (UK) and Aesthetic Dentistry (UK).
His staff is trained with advanced dental techniques to give patients a beautiful smile, often in just two appointments - in a comfortable environment. With state-of-the-art video imaging, he can perfect and preview your ultimate smile prior to beginning dental procedures.

With techniques such as bonding, veneers, gum tissue contouring, bleaching, and full mouth rehabilitation/ reconstruction - changes can be made to create dramatic aesthetic and functional improvements in the patients' appearance.