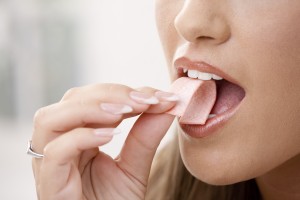 Ever since we were old enough to have candy, we have been more than delighted by the offer of a stick of gum. As kids, it was a sweet treat to chew on as we challenged each other to blow the biggest bubbles. As adults, we pop in a stick when we have a hot date and want fresh breath. But regardless of our ages, chewing gum has been a go-to candy staple we've loved as far back as the Neolithic period. Yes, the actual Neolithic period! It isn't exactly what we now know as chewing gum. Originally, it was made from trees and thought to have medicinal benefits. Today, chewing gum is more of a confection than it is a medicine. So is it still good for us? While sugar is never going to be considered an all-around good thing for us, you'd be surprised just how good gum actually is.
Of all of the reasons we decide to chew a stick of gum, fresh breath is one of the main ones. Something that may surprise you is the fact that lots of gum contains natural oils that fight bad breath causing germs, instead of just covering them up. Some of the best odor-fighting flavors are cinnamon, citrus and any minty flavor you can get your hands on. But beyond the fresh burst of flavor, chewing gum also perpetuates saliva production. Saliva helps fight against dry mouth and the odors created as it helps clean your teeth and stave off sugary snacks in between meals, thus further combatting bad breath.
While there is lots of sugary gum is available on the market, there have also been advances in chewing gum production that can help PREVENT cavities and promote other health benefits than the more cavity-inducing versions. The substitution of Xylitol for sugar has not only reduced cavity production, but it also attacks micro-organisms that damage teeth so our teeth can re-mineralize faster. Add calcium lactate to the mix and now Xylitol has help in the re-mineralization of our tooth enamel.
If you want to go even further with the health benefits of chewing gum, doctors have also used chewing gum to help patients with their cognitive brain functions, gastroesophageal reflux disease, and even abdominal or gastrointestinal surgery recovery time. So not only is gum good for your oral health, it can also help out lots of other issues!
Of course, what goes up must come down and chewing gum is no different. But I will say that the down sides of it aren't quite as harsh as you may think. Yes, chewing sugary gum is bad for you and will give you cavities and other issues with your teeth if you don't take care of them. Yes, some artificial sweeteners they swap out to make sugar-free gum (like aspartame) aren't great for us either. They can cause diseases we would never even link with chewing gum. And yes, you can also develop issues with your jaw from chewing it so much. But these are all issues of excessive use. To deflect these issues, don't make chewing gum an obsession. Just look at what happened to Violet Beauregarde in Charlie and the Chocolate Factory…
While chewing gum can prevent oral problems, it can also cause them as well. To prevent oral problems, contact Dr. George Kirtley at 317-841-1111 for a checkup or professional cleaning or visit www.smilesbygeorge.com.