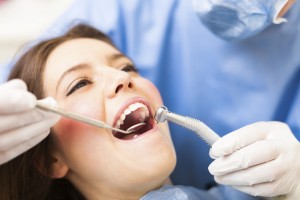 You know that smiles are one of the first things you show off to strangers and yours is a little less than what you consider to be a great smile. Are you thinking of a smile makeover? Why not let your dental professional help you turn back the hands of time with a new smile? They are the ideal ones to help you determine if you're a candidate for a smile makeover. You will both be able to put together a plan to best correct your teeth.
A smile makeover is a cosmetic procedure – it's meant to treat a wide range of visual imperfections to bring you a smile that will make you proud. Dental professionals will address a number of different issues that you may dislike about your current smile, such as color, alignment, and missing teeth.
A smile makeover is designed to address each individual aspect of your smile piece by piece. Discolored teeth may be whitened, and visible fillings can be replaced with natural looking composite fillings that match your natural tooth color. Crooked, overlapping teeth can be straightened, and gaps can be narrowed as your overall alignment is adjusted to form a more perfect smile. In some cases, bonding may be used to conceal imperfections, adding layers of synthetic material to hide chips.
Teeth that were lost or damaged are no longer an issue either. They can be restored with a variety of dental procedures, such as crowns, implants, bridges, or partial dentures. Depending on the state of the tooth, your dentist will recommend covering the front of your teeth with a thin shell of porcelain or synthetic veneers, or placing a crown over the entire tooth to improve shape, size, and strength. Dental implants and bridges may be an option for patients that have lost an entire tooth to injury or periodontal disease.
A smile makeover can erase years from your appearance, boost your confidence, increase your self-esteem and improve your overall dental health. So why not take a chance? A full-mouth makeover can also fix a vast number of dental issues like, bad breath, decay, missing teeth, discolored teeth and more. Say goodbye to your imperfect smile and hello to your new set of pearly whites.
For more information on smile makeovers and/or to make an appointment, call Dr. Kirtley at 317-841-1111 or visit his website smilesbygeorge.com.
Dr. George Kirtley proudly serves patients from Indianapolis, Spring Hill, Beech Grove, Wynnedale, Speedway, Rocky Ripple, Warren Park and all surrounding areas.