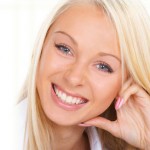 Once you achieve that picture perfect smile with porcelain veneers, you need to be sure to take good care of them. According to Dr. George Kirtley of Indianapolis, IN, Dental problems take their toll on veneers, so taking care of your teeth and gums is essential. Veneers are attached to your actual teeth, which means gum and hygiene problems can greatly affect the veneers.
Polishing
One way to keep your porcelain veneers at their best is to polish them. You can have your teeth and veneers polished once every three to four months. Special tools will be used to buff and clean your teeth and veneers thoroughly. In addition, regular brushing and flossing and regular dental visits will keep your veneers looking great for years.
Mind food and Activities
Even though porcelain veneers act like regular teeth, they cannot withstand excessive pressure. Always try to avoid biting on hard bones, holding things between your teeth, or even chewing finger nails. Also, chewing ice can be extremely damaging to your teeth and veneers, chipping or breaking them. If you engage in sports, always be sure to wear a mouth guard.
How Long Do They Last?
Porcelain veneers are made of a bonding material that does not wear down easily. With proper care as noted above. Veneers can possibly last your entire life. One of the many reasons porcelain veneers are one of the most popular options for smile makeovers.
For more information on porcelain veneers or to make an appointment call, Dr. Kirtley at 317-841-1111 or visit his website www.smilesbygeorge.com.