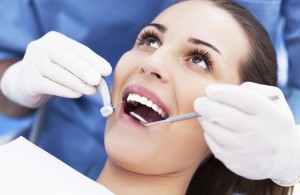 Most dentists recommend you visit their offices every 6 months for a professional cleaning, and during those visits it's common for patients and dentists to learn more about each other, know what to expect, and have an idea for how the visit will unfold. But it's also common for patients to move, change insurance, or otherwise visit a dentist for the first time, and knowing what to expect on that first visit can cause some mild patient anxiety.
The first thing most dentists will do when for a patient's first visit is conduct x-rays. The x-rays not only provide a current glimpse at the state of the patient's oral health, but they offer a glimpse at the patient's dental history. Fillings, crowns, bridges and implants will be plainly visible, as well as any existing problems such as untreated decay.
As the dentist reviews the x-rays, it's likely that the dentist will discuss your dental history – what problems has the patient had? What prompted the visit? What concerns does the patient have?
Based on the result of the x-rays, it's likely that the dentist will determine that certain teeth need attention (perhaps a cavity needs to be filled), or that a general professional cleaning is needed, or perhaps that the patient is generally in good oral health. Depending on the time allotted for the visit, the dentist may be able to address his recommendations at that time, or may ask that the patient make a follow-up appointment.
If serious problems are discovered, it's not unusual for dentists to refer patients to other specialists. Some dentists will refer patients needing root canals to an Endodontist, and patients needing corrective braces to an Orthodontist. This allows the dentist to focus on the patient's general overall oral health, and leave the specialized procedures to experts in those fields.
If you'll be visiting a new dentist for the first time, you should now have a pretty good idea of what to expect. If you're still unsure, or if you have any questions, call the dentist's office – they'll be more than happy to walk you through the plans, and give you more details about what to expect on your first visit.
For more information on our dental services and to make an appointment call, Dr. Kirtley at 317-841-1111 or visit his website dentalimplantsinindianapolis.com 
Dr. Kirtley gladly welcomes patients from Spring Hill, Beech Grove and Warren Park.