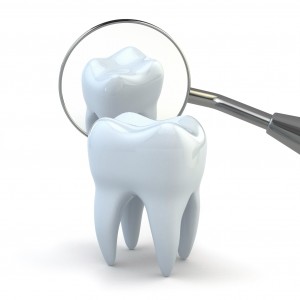 Cavities. It may be the word most closely associated with a trip to the dentist. While many patients think of cavities, many dentists tend to call the condition tooth decay.
Whether you call it a cavity or tooth decay, the problem is the same: germs in your mouth create acid that eventually eats away at the hard surface of your teeth. If not treated, the decay can cause infection, pain, and eventually tooth loss.
As you eat food or drink beverages, a clear sticky substance, plaque, builds up on your teeth and consumes the remnants of the food and beverages. Consisting primarily of bacteria, the plaque consumes the sugars left on and between your teeth after meals. The acid from the plaque slowly destroys the enamel – the hard surface of your teeth – allowing acid and bacteria to reach the softer, less protected parts of your teeth, where decay and infection accelerates.
Dentists will use a combination of X-rays and close visual inspection to identify areas of decay in your mouth. If the decay has eaten through your enamel, the dentist will likely correct the issue by removing the decay with a dental drill, and fill the resulting void with a filling – typically resin or a substance known as amalgam.
With regular visits, it's likely that your dentist will discover and correct decay before it becomes a major problem. Ideally, your dentist will be able to treat decay with simple fillings, rather than more invasive procedures like root canals and full tooth extractions. If you have pain in a specific tooth, schedule a visit with your dentist as soon as possible, so that you can treat the source of the problem before it gets much worse.
For more information on tooth decay and to make an appointment call, Dr. Kirtley at 317-841-1111 or visit his website  porcelainveneersindianapolis.com
Dr. Kirtley gladly welcomes patients from Spring Hill, Beech Grove and Warren Park.