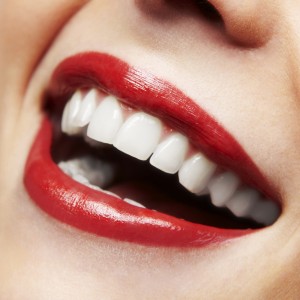 It seems as though obtaining a beaming white smile is on everyone's agenda now a days. Either with their oral care routine at home or professionally with their dentist.
Many brands of toothpaste claim to whiten teeth, and stores sell all varieties of tooth whitening products – trays, gels, strips, and rinses – over the counter. The most basic form of teeth whitening is available as toothpaste – toothpaste, whether it's labeled as whitening or not – typically contains small abrasive components that gently polish the surface of your teeth, removing discoloration caused by surface staining.
Other over the counter whitening products typically contain a bleaching agent – such as hydrogen peroxide – to lighten the color of your teeth by chemically bleaching them.  By applying the bleaching chemical to strips or trays, the peroxide can stay in contact with your teeth for 30 minutes at a time, often twice a day, providing quite a bit of whitening benefit.
Your dentist, however, can typically offer two different whitening options. The first is take-home tray based, using chemicals stronger than over-the-counter trays, but working on the same basic principle. Often times dentist provided trays are custom-molded to the patients teeth, providing a smooth, comfortable fit suitable for wearing for multiple hours each day – often even overnight.  Beyond the trays, dentists can often perform whitening in the office, using light and heat activated bleaching chemicals, providing a significant whitening in as little as 60 minutes. Because the procedure is supervised by a dentist, much stronger chemicals can be used, and much more dramatic results can be seen almost immediately.
No matter which method of teeth whitening you choose, the results will likely not be permanent. Your teeth are exposed to foods and drinks that will stain them over time, but your dentist can advise you on the proper procedure for repeating the whitening process at regular intervals.
Contact Dr. George Kirtley for an appointment today to get the bright white smile you have always wanted at 317-841-1111 or generaldentistryindianapolis.com.