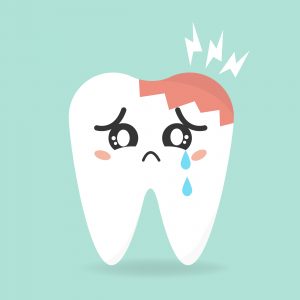 There are lots of dental problems that arise as we progress in life, and they range from minor to serious. Sometimes you don't have time to make it to the dentist, and sometimes you are just waiting for your appointment. There must be something you can do in the meantime to help remedy a few of the more common problems that may present itself. There are loads of different over-the-counter remedies to counter these issues, but there are also natural remedies you could actually have in your home at this very moment. The following is a list of things you can do at home for a quick fix to various dental issues, listed from minor to major:
Bad breath. No one likes to know they have bad breath. It's awkward and embarrassing, for everyone involved. Try chewing on fennel seeds or parsley. Fenugreek leaves boiled into a tea can be used as a mouthwash. Grab a handful of leaves and swish the tea around in your mouth twice a day.
Discolored teeth. There are a few things you can do to gradually turn your yellowed teeth to a sparkling white grin. Make a paste with some baking soda and water and brush your teeth with it once a week. Turn some strawberries into a paste and rub it onto your teeth. It may sound strange but the acids in strawberries scrub your teeth in the most delicious way possible. If you are looking for something a bit more exotic, mix mustard oil with holy basil leaves. The paste is fantastic for fading your teeth's tinge.
Gum infections. If you find that your gums have become inflamed, chances are you will need to take a trip to the dentist. But in the meantime, rinse with warm saline water three times a day. It will keep the area clean and plaque-free. Chewing basil leaves is also known to sooth gums so have some handy if you begin to feel some discomfort. Mustard oil come in handy here too. Mix a little with a pinch of salt to help relieve any mild infection, or loose tooth, you may have.
Toothaches. If your pain has progressed all the way to full-blown toothache, it may feel like nothing will help it. Would you believe it can be fixed by pressing a clove of garlic on the pain? It works. Turmeric powder pressed on a cavity will work wonders on a cavity. Similar to a topical anesthetics we use for cuts, clove oil will do the same anti-bacterial things, but for your mouth.
Dental problems are bound to happen at some point. It's natural. And as you can see, there are lots of natural ways we can help relieve some of our dental problems. They may not be total solutions, but they will work great until you can get into the dental chair.
For more information on dental emergencies and/or to make an appointment call, Dr. Kirtley at 317-841-1111 or visit his website dentalimplantsinindianapolis.com.
Dr. Kirtley gladly welcomes patients from Indianapolis, Spring Hill, Beech Grove, Wynndale, Speedway, Rocky Ripple, Warren Park and all surrounding areas.