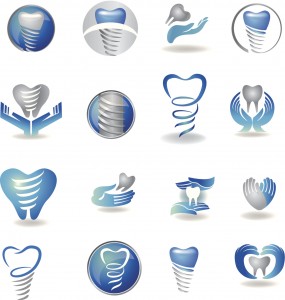 We all know a person's smile is one of the first things you see when meeting someone. Some are lovely, some need work, but their smile is unique and what sets them apart from the rest. But say something unfortunate happens and you lose a tooth or two. Chances are, it is going to affect your overall demeanor. Because we know it's a major first impression, if you don't have a full set of pearly whites, you may be more apt to not want to show off your teeth. Don't worry. Most adults have lost a couple of teeth already, either to decay or some form of accident. Couldn't tell, could you? Yes, it's true. And if you're wondering how some adults have managed to hide their missing teeth – it's because of dental implants.
So if you lose a tooth, here are just a few of the tooth replacement options available:
Dental Implants – Dental implants are surgically implanted into your mouth, offering a sturdy and long-term solution for your missing teeth. The process typically involves three stages and can take several months to finish. However, people are willing to wait because dental implants are considered to offer the best mix of both durability and comfort out of all the other tooth replacement options available.
Bridges – Bridges come in different types, but they're a dental appliance used to bridge a gap left by missing teeth. Unlike dental implants, which are surgically attached to your mouth, bridges use the adjacent teeth to anchor your teeth down for support.
Dentures – Dentures are removal appliances that mimic how a full set of teeth looks and functions. You will be fitted with either full dentures, which replace all of your teeth. Or, you can be fitted with overdentures, which fit over your few remaining teeth. Either way, dentures are often recommended to those missing a couple of teeth.
Now that we know our smile can be saved if something happens, how can we take preventative measures so that we don't have to deal with having any of these procedures done? Because not only does missing teeth ruin your smile, it can also lead to other health issues if not taken care of in a timely manner. For starters, you can start by thinking that age is the predominant factor, because it isn't. Like so many other complications, lifestyle, diet and healthy practices play much bigger factors in your overall dental health than the year we were born.
When it comes to missing teeth, or your oral health in general, good oral hygiene is the best way to prevent teeth from eventually falling out. Missing teeth are usually the result of severe gum disease, a dental complication that can be prevented with regular and daily brushing, flossing and rinsing with mouthwash. So take care of your smile. We may be able to fix it, but what you do dictates the need.
For more information on dental implants and to make an appointment call, Dr. Kirtley at 317-841-1111 or visit his website dentalimplantsinindianapolis.com.
Dr. Kirtley gladly welcomes patients from Indianapolis, Spring Hill, Beech Grove, Wynndale, Speedway, Rocky Ripple, Warren Park and all surrounding areas.