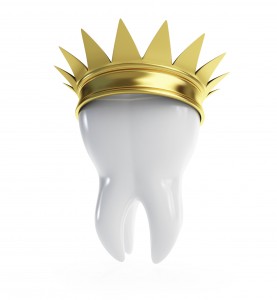 Having a perfect smile is something that not many people have, but many strive to achieve. One of the biggest issues with teeth are damages incurred by everyday activities, whether it be a natural occurrence that developed over time or something that happened completely by accident. The good news is, there is a procedure that can be done to bring your smile back. And this cosmetic procedure is to replace your flawed tooth with a dental crown. With the use of crowns, you can have the smile you have always dreamed of.
No, we aren't talking about the shiny hat worn by royalty. Dental crowns are a cosmetic restoration used to improve your tooth's shape or to strengthen a tooth. Crowns are most often used for teeth that are chipped/broken, worn, or have portions destroyed by tooth decay.
Crowns are "caps" cemented onto an existing tooth, fully covering the portion of your tooth above the gumline. In effect, the crown literally becomes your tooth's new outer surface. Crowns can be made of porcelain and/or metal, but porcelain crowns are most often preferred because they mimic the characteristics of an actual tooth, both in their translucency of natural teeth and because the chemical makeup of porcelain makes these types of crowns very strong. Dental crowns also drastically decrease the amount of bacteria build-up that can lead to the loss of more teeth.
When debating between getting a crown or a filling, crowns are often preferable to silver amalgam fillings. Unlike fillings which apply metal directly into your mouth, a crown is fabricated away from your mouth. Your crown is created in a lab from your unique tooth impression which allows a dental laboratory technician to examine all aspects of your bite and jaw movements. Your crown is then sculpted just for you so that your bite and jaw movements function normally once the crown is placed.
Dental crowns look extremely natural because the porcelain and composite resin crowns match the exact shade of your natural teeth. With dental crowns, you will not be able to tell the difference from your crowns and natural teeth. Because dental crowns are made from porcelain, a material that is not prone to discoloration, dental crowns are stain-resistant. With durable materials used for your dental crowns, dental crowns can last up to 15 years. With dental crowns, patients can go about their daily routines without constantly worrying about their dental crowns falling out of place.
For more information on dental crowns and to make an appointment call, Dr. Kirtley at 317-841-1111 or visit his website dentalimplantsinindianapolis.com.
Dr. Kirtley gladly welcomes patients from Indianapolis, Spring Hill, Beech Grove, Wynndale, Speedway, Rocky Ripple, Warren Park and all surrounding areas.