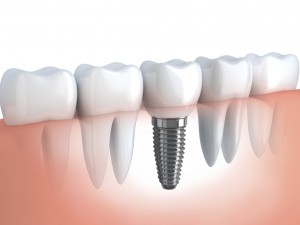 Many patients put off going to the dentist. Whether they're afraid of the pain, the noise of the procedures, or the monetary cost of dental work, putting off dental visits can cause small problems to turn into larger problems, and left long enough, entire teeth can be lost due to decay, infection, or physical problems such as cracking.
For the most severe dental problems, one of the common treatments is the dental implant. Where fillings remove small areas of decay with a synthetic substance and crowns place a cap over an existing tooth root, implants replace the entire tooth – root and all. The process is involved, but done properly, a tooth implant can last many decades, potentially even a lifetime.
The procedure starts by removing the existing tooth and root, and placing a titanium implant post into the patient's jawbone. This metal post is the foundation for the entire implant, and it should be allowed to heal for 6-12 weeks, as the bone forms a permanent bond with the metal post. Once firmly bonded, the dentist will attach a second metal connector – known as an abutment – to the post, which provides a connecting surface for the replacement tooth. The dentist will then make impressions, modeling the entire mouth so that the replacement crown perfectly matches your existing bite. Finally, the crown will be attached permanently to the abutment, providing a solid, permanent tooth
The overall process typically involves very little pain – while there may be some pain in the initial extraction, the rest of the procedure can typically be done under local anesthesia (such as Novocain). The procedure does take a few months to allow the post to properly bond to the jawbone, but once complete, the patient will have a natural looking, durable, convenient replacement for even the most severely damaged teeth.
For more information and to make an appointment call, Dr. Kirtley at 317-841-1111 or visit his website smilesbygeorge.com
Dr. George Kirtley welcomes patients from Spring Hill, Beech Grove and Warren Park