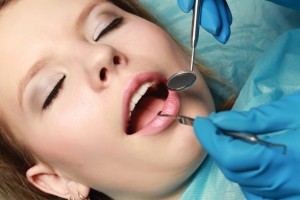 Are you one in the millions of Americans considered to have a dental phobia? Maybe you had a bad experience as a child, maybe you just can't handle people and instruments that close to your face. Whatever it is, you're definitely not alone. Which is why Dr. Kirtley offers sedation dentistry.
Dental anxiety and phobia are extremely common. It has been estimated that 9% to 15% of Americans avoid seeing the dentist because of anxiety and fear. That's about 30 million to 40 million people. In a survey by the British Dental Health Foundation, 36% of those who didn't see a dentist regularly said that fear was the main reason. Dental phobia keeps many people from seeing their dentists for regular check-ups, which could result in poor oral health. The British Dental Health Foundation has found that 1 in 10 people suffer from dental anxiety. Also, women are more likely to suffer from this phobia than men.
The most common fear of visiting the dentist is having a tooth drilled and the local anesthetic injection. People are not born with a fear of the dentist, you develop it and can overcome it. Today dentistry is much different than it used to be. It can be a pain free, anxiety free experience. Relaxation and sedation techniques have been proven in helping overcome dental phobias.
Some of the signs of dental phobia include:
You feel tense or have trouble sleeping the night before a dental exam.
You get increasingly nervous while you're in the waiting room.
You feel like crying when you think of going to the dentist. The sight of dental instruments — or of white-coated personnel in the dentist's office — increases your anxiety.
The thought of a dental visit makes you feel physically ill.
You panic or have trouble breathing when objects are placed in your mouth during a dental appointment(Source: colgate.com).
Dr. George Kirtley offers sedation dentistry for patients with dental phobias and anxiety. For those that are very anxious or if you are undergoing a longer procedure we offer conscious sedation. This treatment uses a combination of medications that put you into a very relaxed dream like state.
Our patients have commented that if they had known how comfortable treatment was under sedation they never would have had any worries about dental treatment. This is such a relaxing procedure that it's often referred to as sleep dentistry.
If the above describes you, contact Dr. Kirtley for a consultation about what sedation dentistry can offer you.
For more information on sedation dentistry and to make an appointment call, Dr. Kirtley at 317-841-1111 or visit his website dentalimplantsinindianapolis.com 
Dr. Kirtley gladly welcomes patients from Spring Hill, Beech Grove and Warren Park.