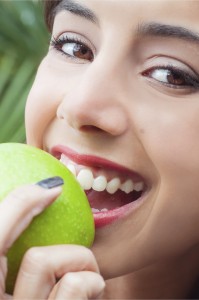 If you've ever experienced a sharp and annoying pain in your teeth whenever it comes contact with anything hot or cold, then you're probably suffering from tooth sensitivity. While not all too severe, tooth sensitivity can cause you to avoid certain foods and beverages, which is why it's important that you get to the bottom of this annoyance.
What Causes It?
Loss of tooth enamel, which leaves the dentin exposed, is the main reason why tooth sensitivity occurs. This may happen if you've been using a hard-bristled toothbrush instead of a soft one, as it may wear away as the abrasion can wear away the tooth enamel. However, it can also be the result of frequent consumption of acidic foods or gum recession.
It is important to take note, however, that the sharp pain when exposed to hot and cold food and beverages is not always caused by tooth sensitivity.
Sometimes, it may be because of the following:
A cracked, chipped or fractured tooth
Dental caries
Constant grinding or clenching of the teeth, or a condition known as bruxism
A broken restoration that's been leaking
A side effect of certain teeth whitening procedures, namely tooth bleaching
Why Does Tooth Sensitivity Hurt?
You see, there are microscopic tubular structures in the dentin that help provide the tooth with the necessary blood and nutrients. These tubules are also responsible for connecting with the nerve fibers within the pulp. If the dentin tubules are somehow exposed to an external stimulus, such as heat, cold or a sudden change in pressure, the said stimulus alters the fluid flow in the dentin, causing the nerve fibers to perceive it as pain.
Now, that wouldn't have happened if you had just enough tooth enamel, which, believe it or not, is considered as the hardest and most mineralized part of the human body.
What You Can Do About It
The first step is to talk to your dentist about your tooth sensitivity. Be sure to describe your symptoms in detail. Try your best to recall when the pain first started. Also, do not be afraid to let your dentist know about anything that you've done that has had an effect on the pain, whether it's positive or negative.
Using your descriptions, the dentist will try to find out the possible cause of your sensitivity, and once finished, the dentist will then treat the underlying cause.
The treatment will usually vary, depending on the case. It may be something as simple as filling up a cavity, or fixing up a worn filling. Your dentist may also apply an in-office fluoride gel to help strengthen the tooth enamel, and make the experience a bit less painful. However, if your case is severe enough that the sharp pain is because your tooth's root is already exposed, your dentist may refer you to a periodontist to get undergo gum graft surgery.
If you've been suffering from painful tooth sensitivity for quite some time and have avoided eating some of your favorite food because of it, be sure to set an appointment with your dentist today – and you could soon be indulging yourself on that ice cream as soon as tomorrow.
If you're suffering from tooth sensitivity, contact Dr. George Kirtley at 317-841-1111 to schedule a consultation to help treat the underlying cause, or visit www.smilesbygeorge.com for information regarding Dr. George Kirtley and his practice.