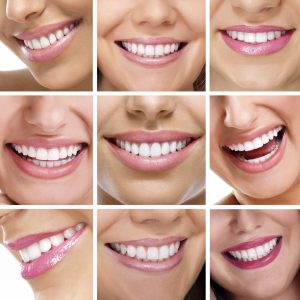 Is your smile everything you want it to be? Do you have some teeth that could use a fix or two? If you have some flaws to your smile that make you feel self-conscious, it may be time for a smile makeover. These days, there are lots of ways to improve it with bonding and porcelain veneers.
Both bonding and porcelain veneers have similarities. They both are used to cover dental imperfections. However, the procedures are quite different and we will break them both down so you have a better idea of what you'd prefer. A consultation with your dental professional will be the best option in order to get a treatment program into place.
Dental bonding uses a smooth tooth-colored solution that is applied to the flawed teeth. Various uses, bonding your teeth can remedy anything from covering stains, to covering up small chips and gaps. After the dental bonding solution has been applied and shaped, it is hardened by using a specialized dental light. Once dried and cured, additional layers may be applied in order to create a more natural look, then polished. Bonding is used on patients who need one or two teeth corrected.
When it comes to veneers, they are created differently. Your new teeth will be fabricated from a solid piece of porcelain. While bonding is applied to your actual teeth, veneers fit over the front and underside of your tooth, covering it completely. They are used for multiple reasons, especially when it comes to lengthening or widening teeth to close gaps or fill in chips. While bonding is best for simple small fixes, porcelain veneers are generally used for patients who have several cosmetic problems or want their entire set of front facing teeth made over. Modern porcelain veneers tend to last many years, are easy to maintain afterwards, look incredibly natural, and offer a stronger alternative to other cosmetic options. While veneers and bonding are cosmetic procedures used to treat similar problems, veneers may be a better alternative in cases where the patient wants to adjust the size or shape of the tooth.
A crown is a functional covering that dentists put over a damaged or decayed tooth or teeth after the dentist has removed the defective area. A dental crown can be used to strengthen a tooth, improve appearance and can be placed on top of a dental implant. With advancements in dental technology like the CEREC system, you can get all of this done in one day. The obvious advantage of this is that it saves you lots of time. Another advantage of the CEREC technology is precision. The scanner the dentist uses takes excellent 3D images of your jawline and the computer the dentist uses takes excellent images of the area for the crown. With such good information, your dentist has less healthy tooth structure to remove when preparing the tooth or teeth for a crown than with the traditional method. Unlike a porcelain veneer, these one day crowns are made with an enamel-like material. No metal is used. For this reason, X-rays can see through these crowns in a day and detect cavities easily.
A dental consultation is necessary to find out more about your smile makeover options and to coordinate a dental treatment plan. So ask about your options. Your smile will be gleaming very soon.
For more information on smile makeovers and/or to make an appointment call, Dr. Kirtley at 317-841-1111 or visit his website dentalimplantsinindianapolis.com.
Dr. Kirtley gladly welcomes patients from Indianapolis, Spring Hill, Beech Grove, Wynndale, Speedway, Rocky Ripple, Warren Park and all surrounding areas.