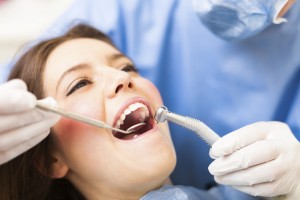 It will always be a nerve-wracking time preparing to see any sort of health professional. As adults, we seem to try dodging these appointments whenever possible. You aren't exactly sure why, you just know you don't want to go. For many, the thought of the unknown is the worst part about these meetings. So after years of deflecting the inevitable, don't you want to understand why?
The good thing about returning to the dentist after a long hiatus is that our first encounter is going to be virtually painless. The goal for this visit is to basically get to know you and your oral health. It's going to be a breeze, so make your appointment to get that first consultation taken care of. Every journey begins with a proverbial first step, even if that step is your mouth's.
When you appointment begins, your dentist is going to do is ask about your health history. It may seem intrusive because dentists focus on oral health, but a lot of issues can be determined via the mouth, so it's important that everyone is on the same page when it comes to your general health.
Typically, next will be x-rays. They're necessary in order for your dentist to monitor your bone & jaw health. If you have recent ones, bring them with you to bypass this step. But prepare to have them done. Once they are done, your dental professional will clean your teeth. This will help them see any issues, like chips and cavities that may be developing due to your daily oral care or other health issues. Once that is done, not only will your mouth feel amazing, but your dentist can give you a better idea about things you need to do in order to take preventative measures. We want to stay ahead of anything that may happen in the future, so a good cleaning will help see the current state of your teeth.
And that's basically it as far as the exam is concerned. Now it's your turn to ask the questions. Take this time to discuss any questions or concerns you have going forward. They will have the best ideas about how to treat any issue they find necessary and prepare you for any surgeries that may need to take place. Be thorough. They are there to help you feel more at ease about your health, so don't hesitate to mention any fears you may have.
Don't worry. This first dental visit isn't anything to worry about. In fact, it's your first step to a beautiful smile. That in and of itself is good news.
For more information regarding and/or to make an appointment call, Dr. Kirtley at 317-841-1111 or visit his website dentalimplantsinindianapolis.com.
Dr. Kirtley gladly welcomes patients from Indianapolis, Spring Hill, Beech Grove, Wynndale, Speedway, Rocky Ripple, Warren Park and all surrounding areas.